ABOUT US
Zoetis is proud to support animal health in Nigeria through partnership with local distribution agents in conjunction with the recently announced African Livestock Productivity and Health Advancement (A.L.P.H.A.) initiative.
SUSTAINABLE LIVESTOCK PRODUCTION IN SUB-SAHARAN AFRICA
In May 2017, Zoetis announced a commitment to develop sustainable livestock production in SSA through the A.L.P.H.A. initiative and a $14.4M, three-year grant from the Bill & Melinda Gates Foundation. The A.L.P.H.A. initiative, launched in Uganda and Nigeria in 2017, followed by Ethiopia in 2018, will advance livestock health and productivity in SSA through increased availability of veterinary medicines and services, and the implementation of disease diagnostics infrastructure. To ensure the initiative is sustainable, Zoetis will incorporate the development of veterinary laboratory networks and outreach services into business hubs in Ethiopia, Nigeria and Uganda.
THE A.L.P.H.A INITIATIVE HAS SEVEN OBJECTIVES:
Improved availability of veterinary medicines through novel product registrations to extend the number of veterinary treatments available for livestock diseases;
Adaptation of product packaging/volume for selected products to ensure affordability and practicality for the smallholder market;
Investment in the development of a certified local distributor network, including distributor training to ensure correct and responsible veterinary product use;
Organization of outreach services for rural communities to improve medicalization rates of livestock, and deliver community education regarding animal disease to demonstrate the potential of animal health to maximize profitability of smallholder farming.
Provision of a fully operational, sustainable diagnostic infrastructure delivered in conjunction with local partners to improve the correct diagnosis of major livestock production diseases and increase correct and responsible use of veterinary products;
Support of local veterinary stakeholders with professional development/ business training courses;
Outcomes research driven by epidemiological studies to demonstrate the return on investment of animal health for local communities, with results communicated in educational resources designed for maximum accessibility for local farmers
Throughout this initiative, Zoetis will collaborate with local stakeholders including governmental authorities, local veterinary associations, national and international NGOs, farmers associations, private sector distribution companies, and the World Organization for Animal Health (OIE) to ensure maximum positive and sustainable impact to the region.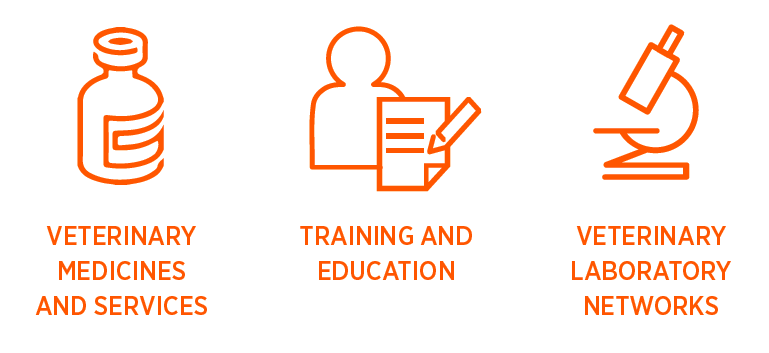 For further information on the A.L.P.H.A. initiative, see our factsheet here.
Zoetis Nigeria
Email: ALPHA-initiative@zoetis.com
---
Distributor contact details:
Poultry Vaccines
Agrar BV Holland
Mr. Robert van der Heijden
Email: info@agrar.nl
+31653245902
Medicated Feed Additives
Albesig Agro Farms Limited
Dr. Charles Igboko
Email: cooalbesig@mail.com
+2348033014488
Pet Vaccines, Poultry Vaccines and Pharmaceuticals
Caesar & Jones Limited
Dr. Jones Okoye
Email: czarjones2002@gmail.com
+2348023570459
Pets Pharmaceuticals, Ruminant Vaccines and Pharmaceuticals
Truthmiles Limited
Dr. Tunji Nasir
Email: truthmiles@yahoo.com
+2348033061214

You are leaving the country website to access another site in the group.
Regulatory constraints and medical practices vary from country to country. Consequently, the information provided on the site in which you enter may not be suitable for use in your country.